How To Obtain A Report
Death Certificates
Although the Coroner completes the death certificates on Coroner cases, these death certificates are filed by the funeral home with the appropriate health department. Deaths that occur within Licking County are filed with the Licking County Health Department. There is a small area of Reynoldsburg whose deaths are filed with the Franklin County Health District.
Coroner's Report
A Coroner's Report is a public document available by written request. It contains identifying information, place of death, manner and cause of death, complete toxicology report and a summary of the significant findings of the autopsy if performed.
A Coroner's report may be requested in writing by postal mail, fax, or email. The report will be promptly mailed as soon as the case is completed. The approximate time for a case to be completed is 6 - 8 weeks. A Coroner's Report is only available when all the results of testing are available. There is no fee for an individual request.
Office Organization
Licking County Coroner:
Michael E. Campolo, DO
Chief Forensic Pathologist / Deputy Coroner
C. Jeff Lee, DO
Investigator/Diener:
Michelle R. Lymon, BA, AS
Renee Rogers, ABMDI-D, ASFS
At least one of these people is available every hour of every day of every week.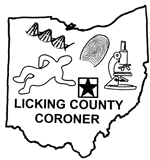 Michael E. Campolo, DO
LICKING COUNTY CORONER'S OFFICE
2102 Cherry Valley Road
Newark, Ohio 43055
(directions)

Phone: 740-349-3633
Fax: 740-349-3634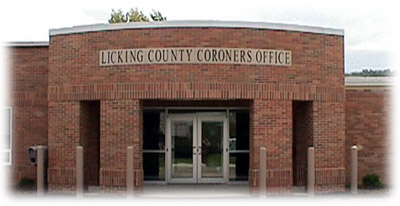 "To the living we owe respect. To the dead, we owe the truth." Voltaire
"Let Conversation cease. Let laughter flee. This is the place where death delights to help the living."
Translation of inscription on marble wall of Chief Medical Examiner's Office, City of New York