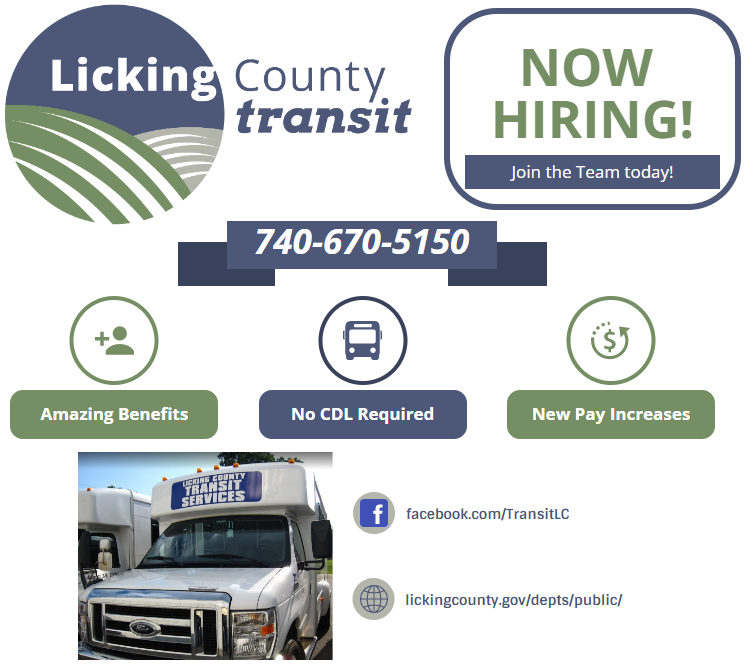 The Licking County Transit Services (LCT) is the demand responsive public transportation system for Licking County residents. We provide origin to destination services. The LCT is owned, operated and governed by the citizens of Licking County through the Licking County Board of Commissioners.
We hope that this web site will provide you with the information that you need to access the LCT transportation services. This site has information on services, schedules, fare charges and much more. Look around and see the collection of on-line information available to you 24 hours a day with the click of a button!
Previous meeting minutes, news releases, and other pertinent documents are also available on this web site. Furthermore, should you have questions regarding information found on this website, feel free to call our offices.
We look forward to serving the Citizens and visitors to Licking County for years to come.
Mission Statement
Safely connecting people to places and possibilities.
Vision statement
Driving our region to the future.
Schedule Your Ride
Call 740-670-5185 press #1 or 1-800-350-7071.
Give the scheduler the following information:

Day you want to travel
Your full name and those of any other passengers traveling with you.
Your address and phone number.
Mobility needs (wheelchair, cane, service animal, personal care attendant, etc.)
Pick up and drop off addresses - Please provide complete street address to assure we arrive at the correct location.
Time you need to be at your destination
Time you need picked up to return home.
Please be ready for your trip on the day and time that you have made arrangements.
Licking County Transit Services are funded, in part, by the Federal Transit Administration, the Ohio Department of Transportation, Licking County Board of Commissioners and users. Additional funding is provided by contracts with agencies to provide transportation services for their clients.
Licking County Transit (LCT) is a government body established under the laws of the State of Ohio (ORC, Section 306). LCT is also an EEO employer.