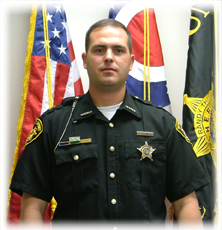 Colonel Dennis started his career in law enforcement with Metro-Dade Police Department in Miami, Florida in 1994. In 1995, he moved back to our community where he has served the citizens of Licking County for 22 years. He began his career as a corrections deputy and has also served as a Task Oriented Policing Deputy, Detective, Detective Sergeant, Patrol Lieutenant, SWAT Team Commander, and Detective Captain. In April of 2007, Colonel Dennis was promoted to Chief Deputy, serving as second in command to Sheriff Thorp, and handling all the day-to-day operations of the Sheriff's Office.
Colonel Dennis was born and raised in Hanover, Ohio in 1971 and has lived there for most of his life, graduating from Licking Valley High School in 1989. He earned his undergraduate degree in Police Administration from Eastern Kentucky University and a Master's Degree in Criminal Justice from the University of Cincinnati. Colonel Dennis continues to excel has a Law Enforcement professional in our community. He has attended numerous law enforcement programs and seminars in areas ranging from investigative skills to leadership roles. He continues to support, promote, and enhance the development of law enforcement professionals in our community and around the State of Ohio.
Colonel Dennis is a member of the American Jail Association and the National Sheriff's Association and speaks on the topic of Leadership in Law enforcement at the American Jail Association's annual conference. Colonel Dennis is also a member of the CORSA best practice policy panel designed to generate best practice policies that can be utilized by the Sheriff's in the State of Ohio. Furthermore, Colonel Dennis teaches leadership courses throughout the state of Ohio and has instructed over 500 current law enforcement leaders throughout Ohio's Sheriff's Offices, Police Departments, Correctional and Probation departments. Colonel Dennis has served on the Buckeye State Sheriff's Associations Board of Directors since 2007. In 2009, Colonel Dennis was invited to attend the prestigious FBI National Academy in Quantico, VA. The academy is a professional course of study for law enforcement leaders throughout the world. He currently serves as the 1st Vice-President of the Ohio Chapter of the FBI National Academy.
Colonel Dennis resides in the Hanover area with his wife of 24 years, his daughter and has two sons attending universities in the State of Ohio. He is active in the community and enjoys living in and being a part of Licking County.