Granville Active Transportation Plan
What is active transportation?
Active transportation is human-powered transportation that engages people in healthy physical activity as they travel to their destinations. Active transportation tends to be combined with public transportation for longer distances.
Benefits
Active Transportation is a great way to exercise, thereby reducing the risks and health detriments associated with obesity, such as heart disease, diabetes, and high blood pressure. Exercise has also been proven to improve mental health and lower stress. It also benefits the environment by reducing motor vehicle emissions and pollutants, while sparing the user fuel costs and reducing vehicle maintenance costs.
What is active transportation planning?
Active Transportation Plans (ATPs) are documents that provide a roadmap for improved walking and bicycling conditions (as well as other alternative forms of active transportation where they apply). The planning process includes steps for gathering input, building community support, and lays the groundwork for funding and implementing a wide variety of projects, programs, and policies. ATPs can take place at the regional, county, city, village, or neighborhood level. Plans may also address access to transit through active travel models.
Why is active transportation planning important?
To connect people to everyday destinations (work, school, grocery stores, doctors, etc.)

To provide facilities that enable residents to walk and bike safely

Improved mobility options/connections to improve healthy living opportunities

To make the community more convenient and accessible for walkers and bikers

To provide residents with options for getting around other than by a personal vehicle

A need to extend our connected shared-use/bike paths with on-street bicycle and pedestrian facilities
---
See our previous active transportation planning projects:
Johnstown Active Transportation Plan
LCATS worked alongside the Village of Johnstown to create an active transportation plan that will assist Johnstown in creating a more walk-able and bike-able environment for citizens. These efforts built upon the existing infrastructure and plans of the Village and will be beneficial to secure funding to implement improvement projects. Take a look at the plan by clicking the cover image below!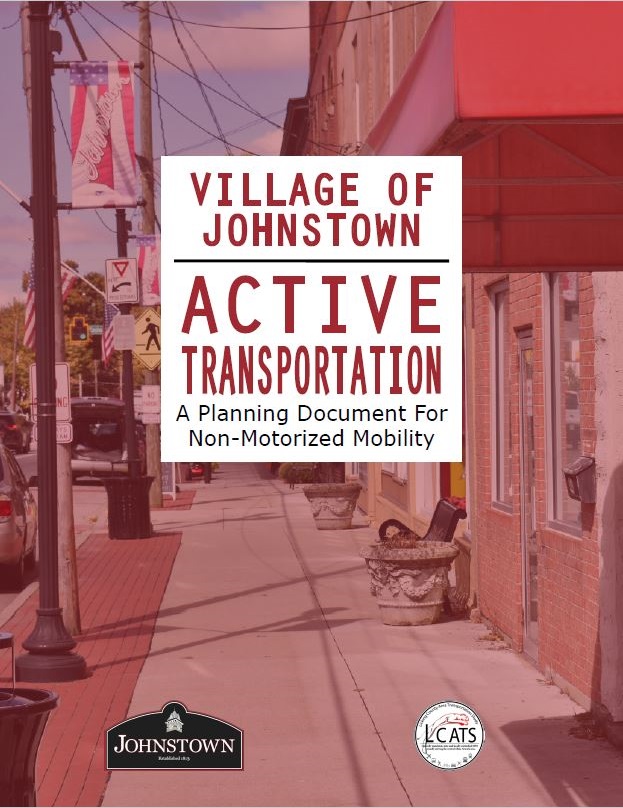 Newark-Heath
We collaborated with the Licking County Health Department and Cities of Newark and Heath to create an Active Transportation Plan and draft an improved bicycle and pedestrian network for Newark-Heath. These plans include several demonstration projects in the near future. The final plan can be viewed by clicking the cover image below!