Granville Active Transportation Plan
LCATS has been working with the Village of Granville on producing an Active Transportation Plan to help create a safer, healthier, and more connected community. This planning process is now in the public feedback stage and we would like to hear your thoughts and comments! If you live, work, or recreate in the Granville area, please take a moment to participate, as your comments and insight will help us determine and prioritize the appropriate projects for this plan.
There are 2 ways to provide your input: the first is a TRADITIONAL SURVEY and the second is a MAP BASED SURVEY that allows you to add your own markers and look over the proposed projects our planning staff has preliminarily developed based on previous plans, local knowledge, and some condition audits.
If you are unfamiliar with active transportation, scroll further down this page to learn more.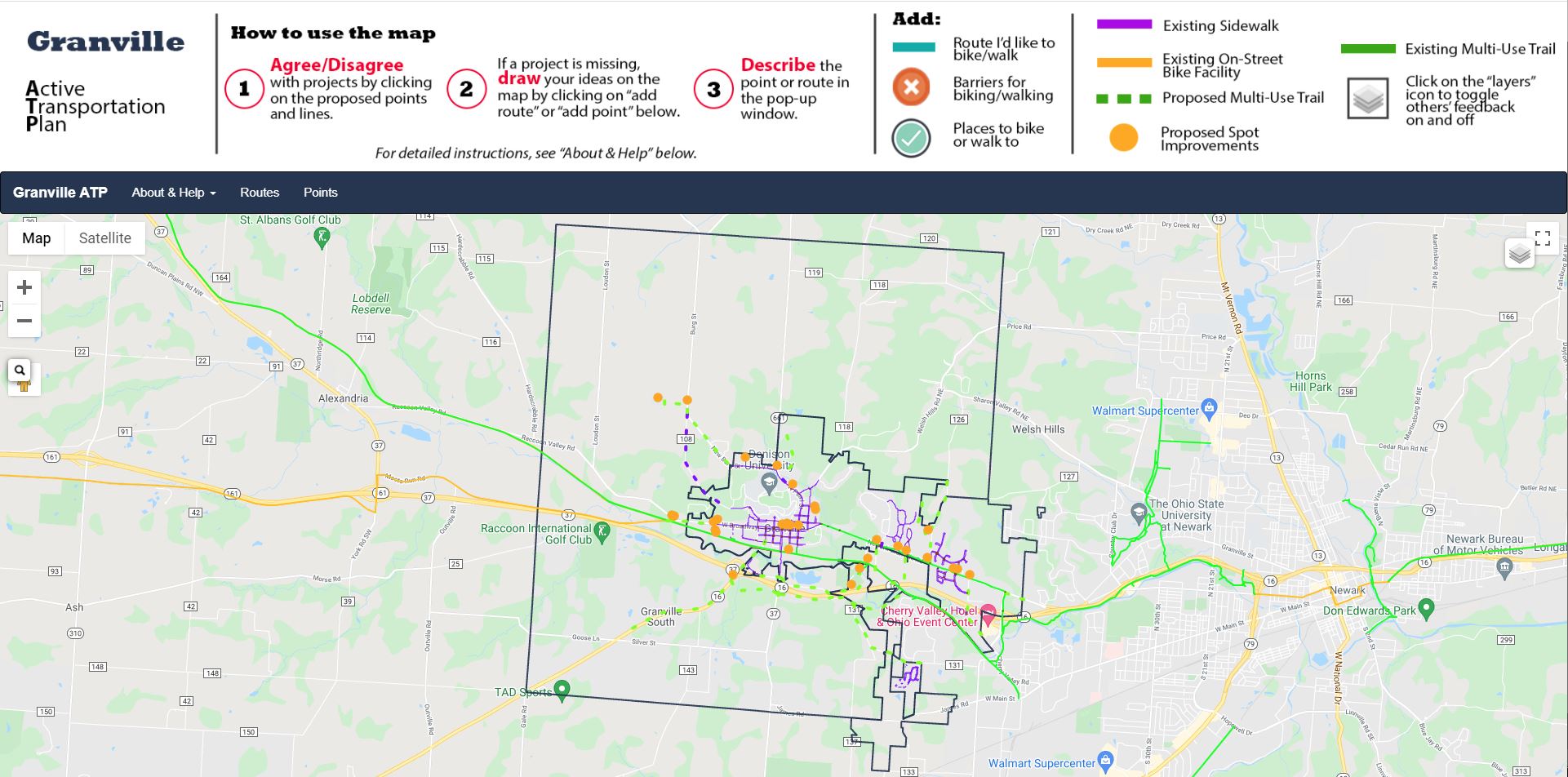 ---
Hudson Avenue Demonstration Project
The survey has been closed for our team to review the public feedback for this project. Check back for a summary of comments and additional updates to the future of this corridor!

Project Update:
There has been a little confusion on proper usage and circulation for the demo project. Please remember the following:
Yield at the approach to the traffic circle. (All traffic must slow down at the intersection to assess the presence of vehicles or pedestrians on all approaches.)

The circle hardware is mountable and is acceptable to be driven over, should additional space be needed to make turning maneuvers.

Larger vehicles and vehicles hauling trailers are permitted to make left turns on the front side of the traffic circle, provided they have the right of way.
What is an infrastructure demonstration project?
It is a low-cost, short-term, temporary pilot project meant to test out long-term design improvements. The 2 temporary traffic circles on Hudson Avenue will cost approximately $8,000 dollars and will be funded by LCATS and the Licking County Health Department. While that might seem like a high cost for a temporary project, the hardware for this project is durable and will be utilized again for various future projects.
When is this project being installed?
Installation of this project occurred on May 25, 2021.

How long will this project last?
This temporary project is expected to be in place for a couple months. This time frame will give us enough data to make an educated decision for the future of these intersections.
What are traffic calming circles?
Traffic calming circles are small circular islands within intersections on residential roads. They manage traffic at local road intersections, reduce crash rates, and reduce speeds at intersections and along corridors, all while still allowing larger vehicles such as school buses and fire engines to pass. Besides reducing crashes and speeding, traffic calming circles also reduce severity of crashes by changing the angles and speeds at which a collision would occur. The reduced speeds of motorists also create safer environments for pedestrians.
What is the difference between a traffic calming circle and a roundabout?
Traffic calming circles are intended for residential neighborhoods and tend to be much smaller than roundabouts. Large vehicles, such as school buses and fire engines, may pass in front of the circle to complete left turn movements. Besides that, they share many common features and benefits.
How should I use the traffic calming circles?
The traffic calming circles should be utilized in the same way as other roundabouts throughout the city of Newark, such as the ones on the Downtown Newark square. As a driver, while entering the traffic calming circle, you should yield to crossing pedestrians first, then also yield to vehicles already in the circle. Once you have entered the circle, you should not come to a stop. Continue moving through the circle to your desired exit spot. Once it is time to exit the circle, be sure to once again yield to pedestrians. As a pedestrian, be sure to cross the street at the intersection's crosswalks. Be cautious of your surroundings before crossing.
Why not just use stop signs?
Stop signs assign right-of-way and are not the appropriate traffic control for speeding. Over 70% of the local crashes are the result of a failure to yield at a stop sign at these intersections. Additionally, all way stops must meet warrant requirements typically based on volume criteria not met at these locations. Installing unwarranted traffic control devices can lead to accidents. Using a geometric control, such as a traffic calming circle should force slower speeds and reduce crashes.
Why not install a traffic signal?
Traffic signals are used strictly to assign right-of-way at congested intersections and are not appropriate to control traffic speeding. These intersections do not meet the necessary criteria for signalization which could create safety issues from red light running and increased speeds to "beat the yellow light." Traffic signals also typically cost around $150,000.
Why not just use speed bumps?
Speed bumps are a form of traffic calming that use vertical deflection, which is a change in road height. The reason horizontal deflection measures were selected for this project is due to some of the byproducts of vertical deflection. For example, they can damage automobiles and the roadway, are more dangerous for cyclists, and are problematic for school buses and emergency vehicles.
What if the project does not correct the issues at these intersections?
Our team will take the data collected from this project and develop a different project aimed at correcting the issues at these intersections.
---
What is active transportation?
Active transportation is human-powered transportation that engages people in healthy physical activity as they travel to their destinations. Active transportation tends to be combined with public transportation for longer distances.
Benefits
Active Transportation is a great way to exercise, thereby reducing the risks and health detriments associated with obesity, such as heart disease, diabetes, and high blood pressure. Exercise has also been proven to improve mental health and lower stress. It also benefits the environment by reducing motor vehicle emissions and pollutants, while sparing the user fuel costs and reducing vehicle maintenance costs.
What is active transportation planning?
Active Transportation Plans (ATPs) are documents that provide a roadmap for improved walking and bicycling conditions (as well as other alternative forms of active transportation where they apply). The planning process includes steps for gathering input, building community support, and lays the groundwork for funding and implementing a wide variety of projects, programs, and policies. ATPs can take place at the regional, county, city, village, or neighborhood level. Plans may also address access to transit through active travel models.
Why is active transportation planning important?
To connect people to everyday destinations (work, school, grocery stores, doctors, etc.)

To provide facilities that enable residents to walk and bike safely

Improved mobility options/connections to improve healthy living opportunities

To make the community more convenient and accessible for walkers and bikers

To provide residents with options for getting around other than by a personal vehicle

A need to extend our connected shared-use/bike paths with on-street bicycle and pedestrian facilities
---
See our previous active transportation planning projects:
Johnstown Active Transportation Plan
LCATS worked alongside the Village of Johnstown to create an active transportation plan that will assist Johnstown in creating a more walk-able and bike-able environment for citizens. These efforts built upon the existing infrastructure and plans of the Village and will be beneficial to secure funding to implement improvement projects. Take a look at the plan by clicking the cover image below!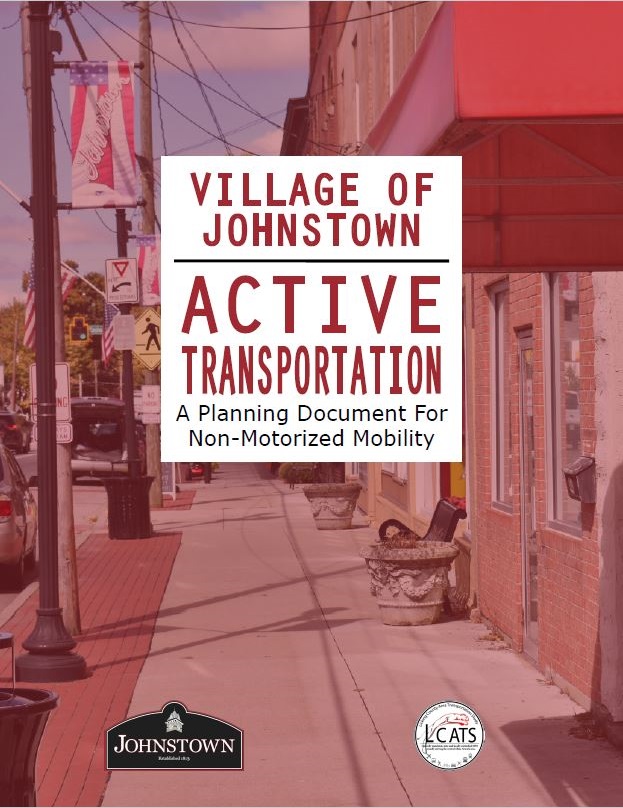 Newark-Heath
We collaborated with the Licking County Health Department and Cities of Newark and Heath to create an Active Transportation Plan and draft an improved bicycle and pedestrian network for Newark-Heath. These plans include several demonstration projects in the near future. The final plan can be viewed by clicking the cover image below!